WWE Smackdown Live 20/03 Results – Daniel Bryan is cleared & more
SHOW KICKS OFF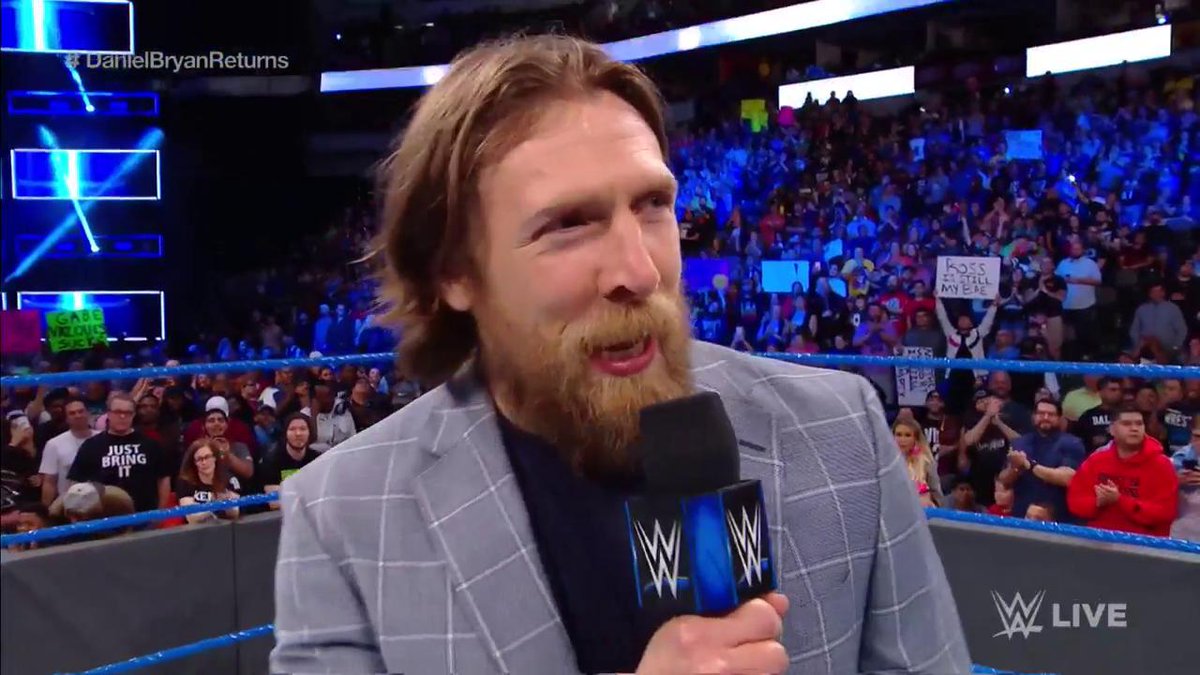 The show starts off with The General Manager Daniel Bryan who says, "Thank you guys very much". He was overwhelmed by the great news that he was returning from his retirement.
He tells us he has focused on being grateful. He says there were times when he was angry but there was a lot to be grateful. An amazing family, friends and the best fans in the world. He also thanks his beautiful wife. His wife encouraged him to see specialists.
Brie encouraged him to fight for his dreams no matter how he felt and if he fought for his dreams they will fight for him. He said WWE sent him to multiple neurologists and every one said this "You are Cleared". Daniel thanks the WWE and the doctors, The Universe at the arena and at home. Lastly he thanks his wife Brie Bella.
Daniel Says he doesn't know exactly where and when he will get into the ring. The WWE universe chants "Wrestlemania!".
In response, he asked them "does that sound like a good idea?" Daniel Says he isn't sure but he definitely will compete in a WWE ring.
Rusev vs. Shinsuke Nakamura
[read more="Read Results"]
Rusev starts off with an arm lock and Shinsuke shows off some skills to break out. Shinsuke starts taunting Rusev. The two men were exchanging kicks now. Rusev was in full control as we head into an Ads break.
As we return from the ad break. Nakamura fights back to Rusev with a vicious flying knee. Rusev is reduced to his knee and receives some more lethal kicks. Shinsuke was calling for the Kinshasa but it was countered by Rusev.
Sponsored:


After that, Rusev was calling for the Machka kick. Shinsuke eventually got Rusev's shoulders down for 3 after a roll-up pin. Aiden English then attacked Shinsuke Nakamura. And it became a 2-on-1 attack. AJ Styles hesitated to help but Shinsuke didn't need it. As he fought both of them off and looked confident while doing it.
Winner – Shinsuke Nakamura
[/read]
Backstage Segment
[read more="Read Results"]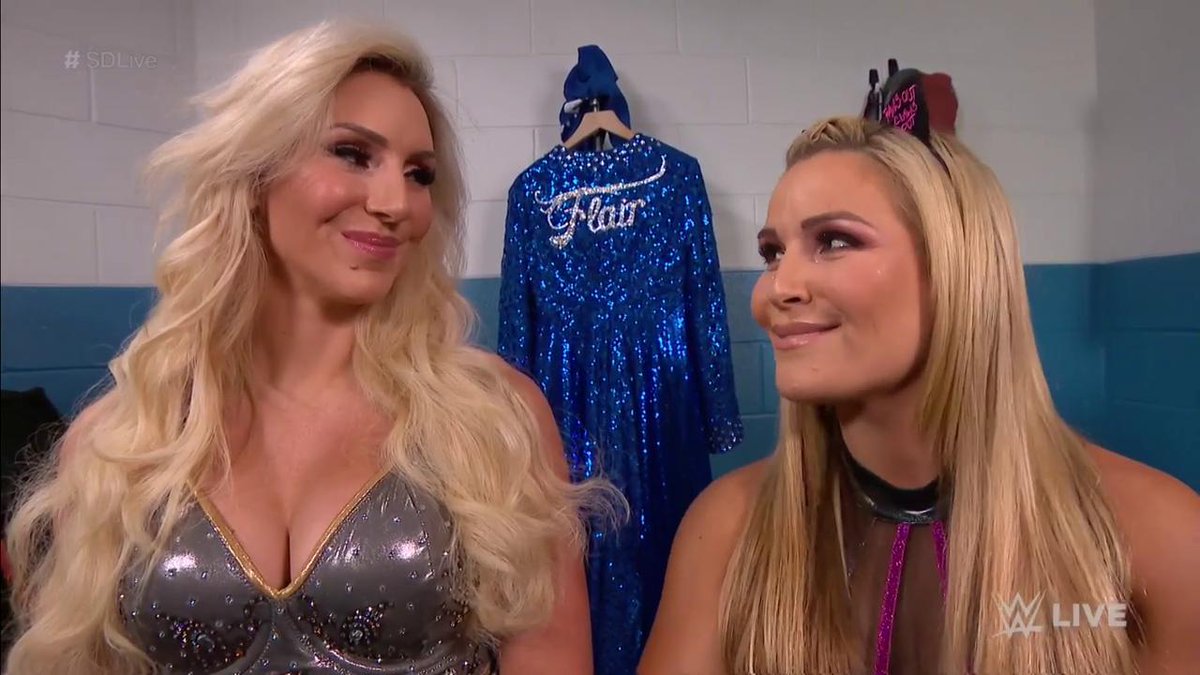 We cross backstage to See Charlotte watching a video about Asuka. Natalya comes gloating to Charlotte that she is scared. Charlotte says that Asuka is the biggest threat to her title so far.
Nattie says she deserves to face Charlotte at Wrestlemania. Charlotte says She cant face her at Wrestlemania but she can face her tonight. Nattie tells her she is on and the two will meet later on in the show.
[/read]
Tye Dillinger vs Baron Corbin
[read more="Read Results"]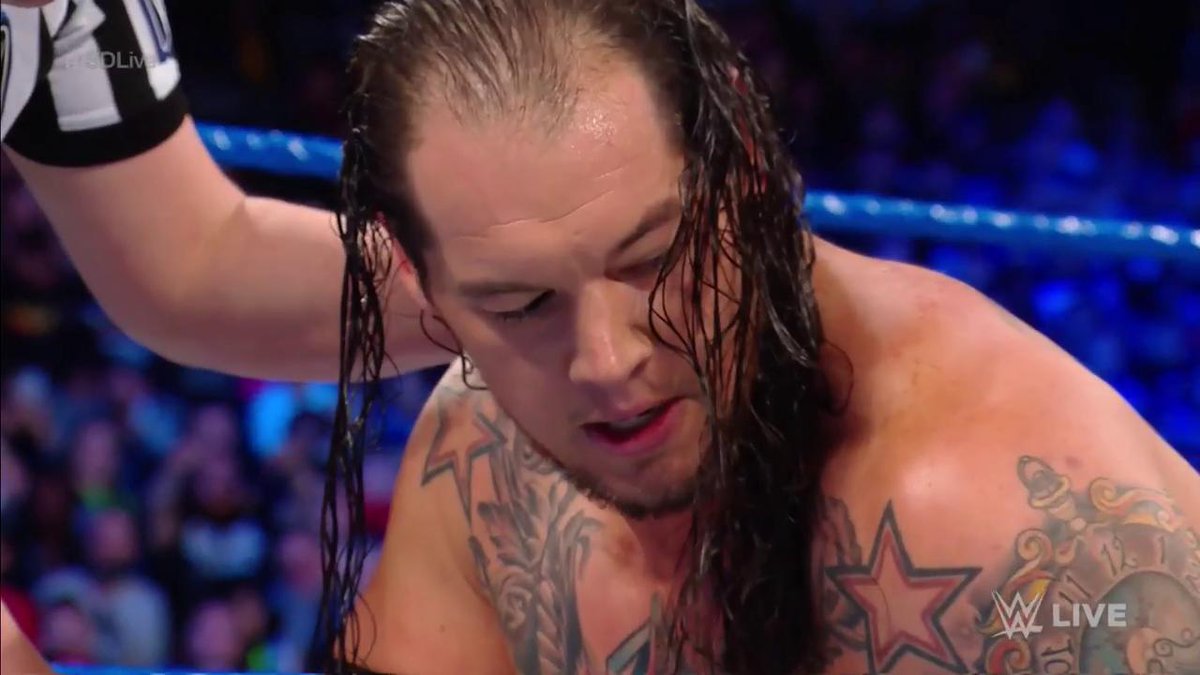 Tye starts off by getting Corbin into a headlock. Corbin gets The perfect 10 into the corner and attempts his signature clothesline.
He attempted a chokeslam Backbreaker but Tye Dillinger got out of the line. Corbin chucked Dillinger out of the ring. And threw him back in the ring just to deliver an End Of Days. Just like that he picks up the victory.
Winner – Baron Corbin
[/read]
Charlotte Flair vs Natalya
[read more="Read Results"]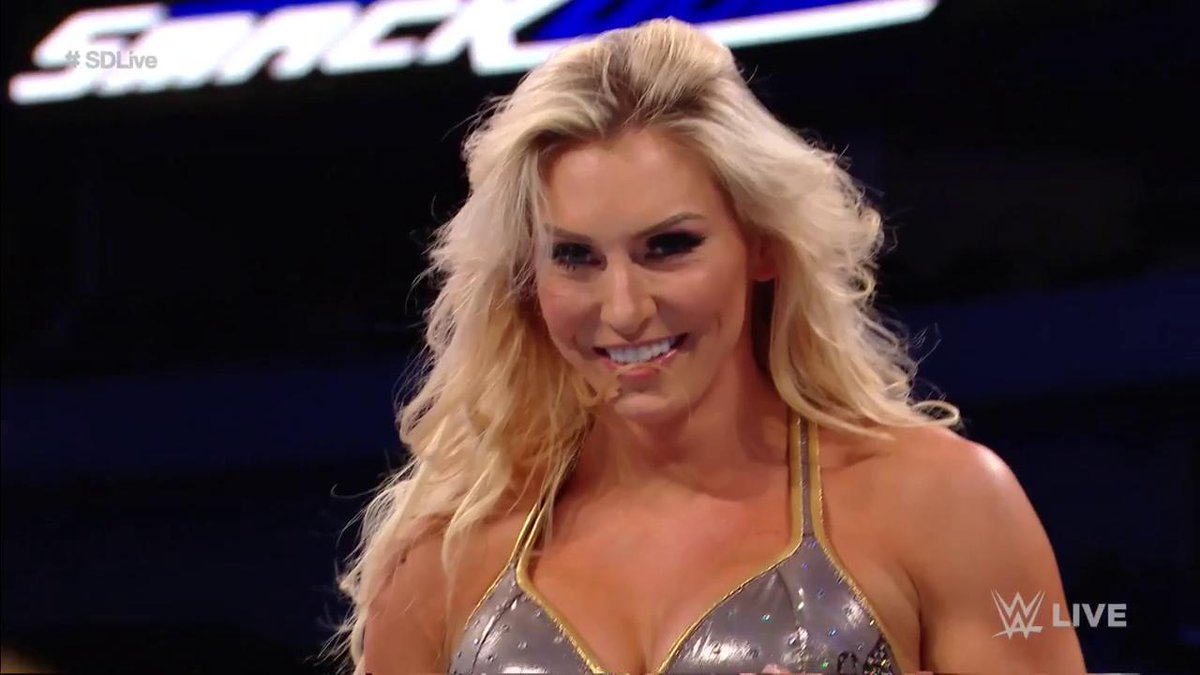 Charlotte starts off by shouting "Wooooo !". Natalya gets Flair in an arm lock but it soon countered into a headlock. Natalya screams shut up to the WWE universe.
Natalya kicks out after a quick cover. She continues the quick covers and Nattie kicks out at each one. Flair displays some incredible power and some sick skills. Nattie rolls outside just to get some air as we go for a commercial break.
Back on and Natalya has Charlotte in a submission. Charlotte finds a way out. But Natalya gets the upper hand once more as she kicks Charlotte multiple times in the corner. Charlotte gets a Major kip up as she took down Nattie. She chops Natalya multiple times.
Sponsored :


Natalya looks for a Discuss- Clothesline. But its countered by the Champ. Charlotte looks for a figure 4 but Nattie doesn't allow it. As Charlotte attempts to go high risk. Natalya gets her into a powerbomb. 1-2.. But Charlotte kicks out. Sharpshooter is locked in but Charlotte gets the rope.
She finally connects the discuss-clothesline. 1-2 but Flair stays in it. Nattie received a vicious speer outside before being thrown back into the ring and given a Figure 4.
Charlotte tried to break her leg but the ref broke it off. Charlotte went to the top rope but Natalya gave a superplex. WE THEN HEAR CARMELLA'S music.
She runs down the ramp with an official but her match didn't officially start. Natalya pinned Charlotte to pick up the victory while Carmella still has her briefcase.
Winner – Natalya
[/read]
Jimmy Uso vs. Luke Harper
[read more="Read Results" ]
Sounds like The #BludgeonBrothers have officially been WELCOMED to the #UsoPenitentiary!#SDLive @WWEUsos pic.twitter.com/bTSdxDgk3u

— WWE (@WWE) March 21, 2018
Harper had the full control of the match. Jimmy tries to nail Harper down by hitting few slaps to the chest but as usual, he was thrown down to the corner of the ring.
Jimmy Uso trips Harper into the LED board on the apron. Harper kicks out Uso's leg under him on the top rope and slams his head on the ring post, discus clothesline turns Jimmy inside out to give Luke Harper the pin.
Winner: Luke Harper
[/read]
United States Championship Segment
[read more="Read Results"]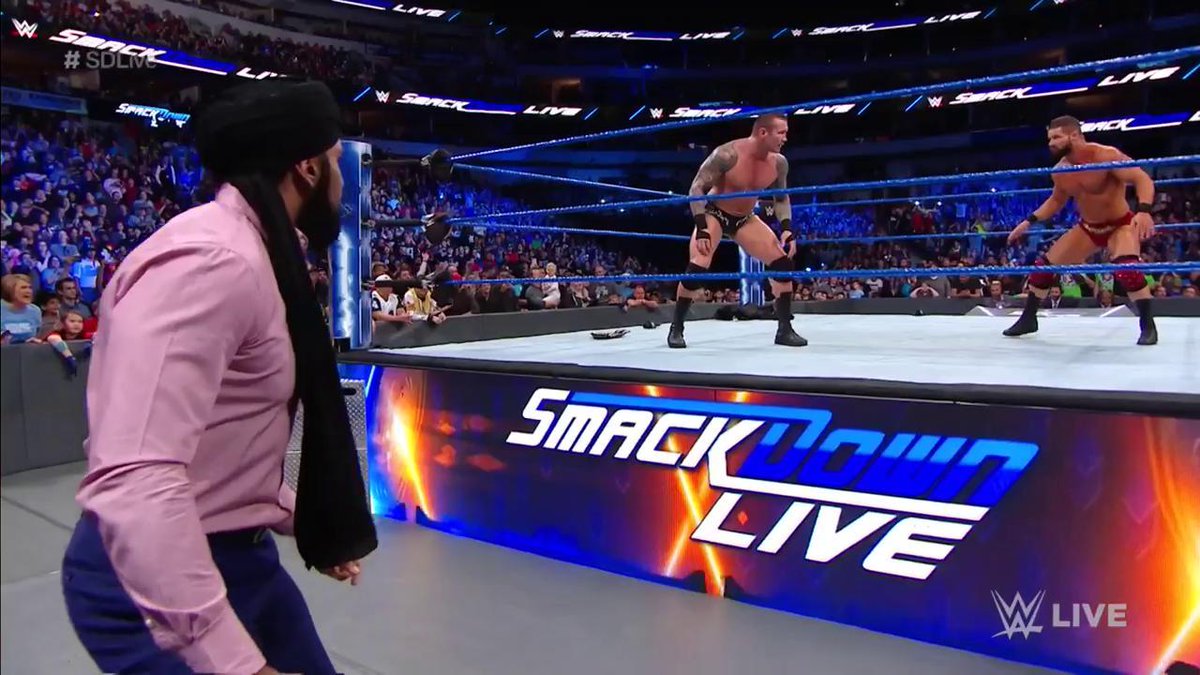 Jinder comes out with his henchman Sunil who says they must show respect to the next United States champ. Jinder says everyone booing him is a hypocrite. A man of his wealth doesn't have to be there. Jinder says they still disrespect him. He says he should be their hero.
Jinder continues speaking until Roode comes out to interrupt him. Roode says That Jinder is the only hypocrite. Roode tells Mahal that he doesn't deserve any respect.
The only thing he deserves at Wrestlemania is a beatdown from Roode. Now Randy Orton comes out. As Jinder wants to Introduce Randy. Randy tells him to Shut the hell up. Randy says that Jinder sucks without the help of his little stooge.
Mahal threw his henchman to the wolves and Jinder ran out for safety. Sunil received a vicious beatdown from Roode and Orton.
[/read]
Naomi and Becky Lynch vs. Liv Morgan and Sarah Logan
[read more="Read Results"]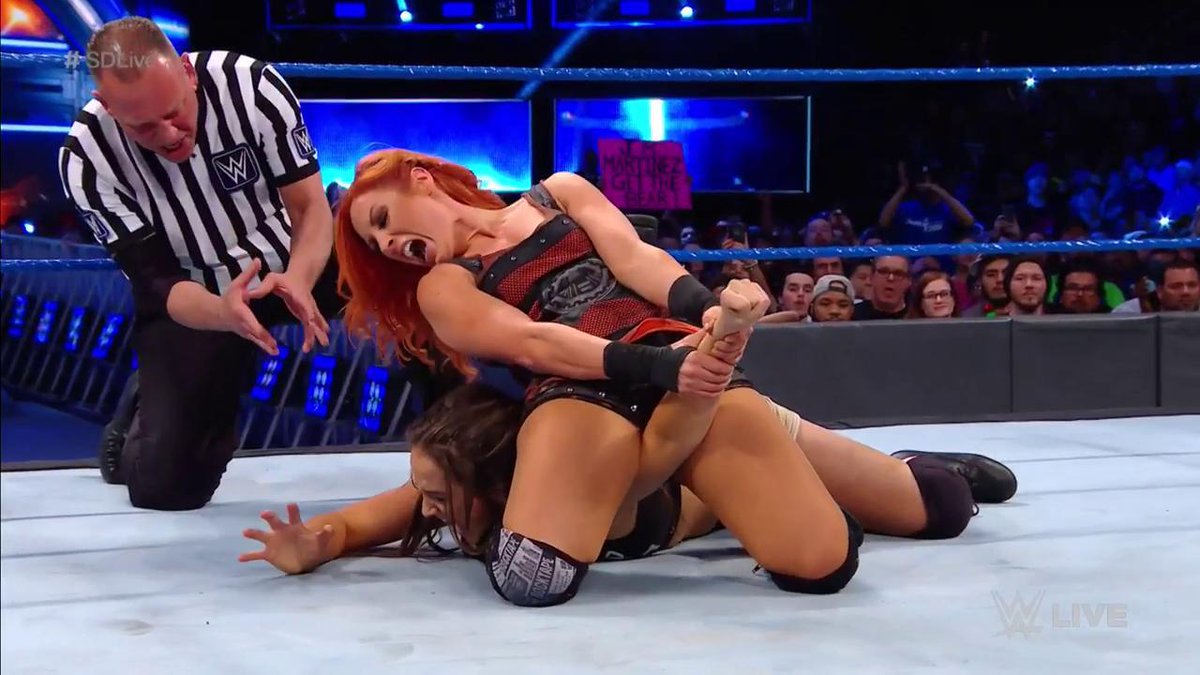 Naomi starts off with Liv Morgan. Becky then gets tagged in. Liv tags in Sarah as they take her down in the corner. A vicious knee connects from Logan. Naomi gets taken down by Logan. Before we know it, Becky gets Sarah Logan into the Dis-Arm-Her and picks up the victory.
Winners – Naomi and Becky Lynch
[/read]
Kevin Owens, Sami Zyan & Daniel Bryan's segment
[read more="Read Results"]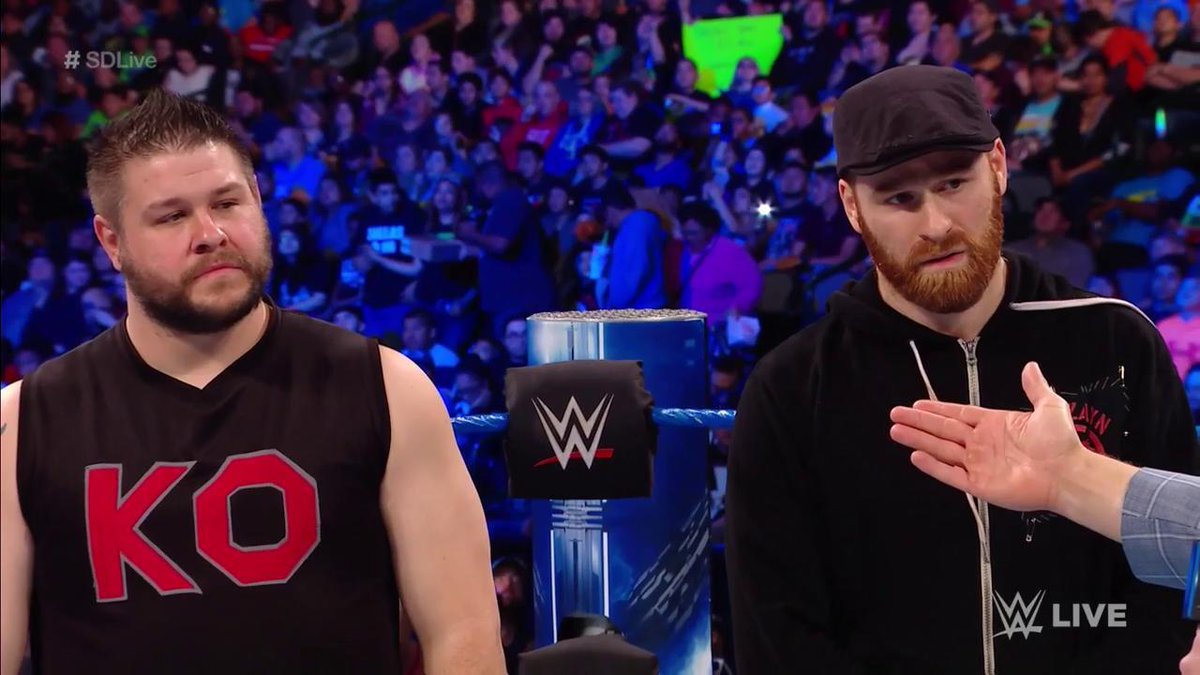 Daniel Makes his way out again and tells Zayn and Owens to come down to the ring.
They come down happy not showing any remorse for what they've done to Shane McMahon. Kevin and Sami hug Daniel.
Kevin says That they weren't going to come because Shane wasn't going to be here. Kevin says they would have been here earlier if it wasn't for Walker Texas Ranger.
Sami Zayn praises that Daniel has supported them since Day 1, Daniel has always been fair. Sami says that Sami Zayn Kevin Owens and Daniel Bryan sound like a dream team.
Daniel says he appreciates that but this is not why he called them out. He called them out over the vicious attack on Shane McMahon.
Daniel asks them if he thought that was funny. Sami Zayn says you cant tell them that he didn't deserve it. Daniel tells them it is a big deal. Daniel admits that when Shane says he favors them it was true. Bryan tells them they didn't get carried away but they assaulted their boss.
Daniel tells them 10 years ago this opportunity would have been very good and it would have meant so much to them. He tells them Shane was right and he really doesn't want to do this.
But he has been fired twice and he has become a better man. He tells Sami and Kevin that they're fired. He tells them that they're just gone for now, not forever.
Sponsored :


ENDING
"I hate that I have to do this, but @SamiZayn… @FightOwensFight… YOU'RE FIRED."

A SHOCKING announcement from #SDLive General Manager @WWEDanielBryan. pic.twitter.com/TVmrsLF73k

— WWE (@WWE) March 21, 2018
They can't believe it. Daniel offers out his hand and Sami firmly shakes it as well as Kevin. As they leave the ring Owens attacks Bryan. Kevin screams that Daniel did this.
Daniel fights back and he is on a roll. The WWE universe is on fire. He does the yes kicks before Sami saves his pal. Owens Superkicks him followed by a Helluva kick by Sami Zyan.
They aren't done yet. Officials are trying to stop them as they chuck Daniel out. Owens Powerbombs him on the Apron. And they walk away as the medical team comes to assist him.
[/read]
That is it guys, we would have to wait and see what we can get next week!
---
THE AUTHOR