Smackdown Live 20/03 – Review & Ratings
SmackDown Live 20/03, Jinder/Bobby/Randy Saga, The Usos vs Bludgeon Brothers and More.
With just 19 days to WrestleMania 34, we learned that Jinder Mahal has been added to the United States Championship Match, and Daniel Bryan has been cleared for in-ring action.
#SDLive General Manager @WWEDanielBryan seems to have more FIGHT in him than ever, but the now-FIRED @FightOwensFight & @SamiZayn may have just extinguished it… pic.twitter.com/GhUMf8MTNx

— WWE (@WWE) March 21, 2018
Start:
1. Daniel Bryan Speaks On Being Cleared To Fight Again
[read more="Read Results"]
Daniel Bryan made his way out to a very excited crowd. He addressed the fact that he will speak to Sami Zayn and Kevin Owens later before focusing on his return.
Daniel Bryan was very overwhelmed and thanked the WWE Doctors, Universe and his family. And of course his wife for always encouraging him.
Daniel said that he will definitely be fighting again. But he doesn't know where and when. It was at this moment when the WWE Universe chanted "Wrestlemania".
Author's note: I definitely want to see Daniel in in-ring action at the Superbowl of Professional Wrestling, WrestleMania!
He should team up with Shane McMahon to face Kevin Owens and Sami Zayn.
He went backstage to receive some 'congrats' from a WWE official and Dolph Ziggler. Ziggler said 'its great to be back'. And he wants to be the first to defeat Bryan. Bryan said 'we will See about that'.
Author's note: So personally I am very happy and so is the WWE Universe all around the world glad to see the Grand Slam Champion back after two years of not being in a ring to fight.
RELATED :
[/read]
2. Shinsuke Nakamura def. Rusev
[read more="Read Results"]
Rusev got his rematch from Fastlane, but he hasn't been exactly in the greatest form. In the last 3 matches, he hasn't been able to pick up a victory. Styles was on the commentary desk for this match.
The match got underway with Shinsuke playing some mind games.
The match eventually got to its climax when Rusev was in control, Shinsuke attempted a Kinshasa but Rusev countered it. Rusev attempted the Machka kick but missed. Shinsuke took advantage of that moment with a roll-up pin for the win.
After the match Aiden English attacked Shinsuke and Rusev got back up to join him. Shinsuke fought back. Styles attempted to save Shinsuke, but Shinsuke had already sent his attackers packing.
We cross backstage and Shinsuke taunted Styles by saying that he didn't need Styles help. He was about to say what he had been saying for the past two months, "I'm gonna…", but Styles said, "I know you are gonna beat me at WrestleMania". Shinsuke said, "I know but you should really be more confident".
Author's note: I feel like Shinsuke Nakamura will continue his mind games over Styles for the next two weeks. I think he will indeed beat AJ Styles for the WWE Championship, but we will just have to see in three weeks time.
Start Rating — 2/5
[/read]
Sponsored:


Middle:
Backstage Segment Featuring Charlotte Flair
[read more="Read Results"]
We go backstage to see Charlotte Flair watching a video of Asuka. We see Natalya coming and saying Charlotte is scared of Asuka. Flair says that Asuka is the biggest threat to her title reign so far.
Natalya says she deserves to face Charlotte Flair at WrestleMania. Charlotte challenges Natalya to a match later the night.
Author's note: Personally I do too believe that Asuka is the greatest threat to Charlotte Flair's title reign, and she could win the SmackDown LIVE Women's title at WrestleMania, but what if Carmella cashes in her Money in The Bank contract successfully and she wins the title and conquers Asuka's streak?
[/read]
4. Baron Corbin def. Tye Dillinger
[read more="Read Results"]
This match was rather quick and made Tye Dillinger look like a jobber. Corey Graves had a point when he said people accuse Baron Corbin of squandering his opportunities but he won the United States Championship, the Money in The Bank contract and the 3rd Andre the Giant Battle Royal Match.
Author's note: Tye Dillinger hasn't achieved anything since he moved to the main roster. If he could turn heel we would see a whole turn to his strategy.
The match ended in under 3 minutes with Corbin having most of the match in his palms.
[/read]
5. Randy Orton /Bobby Roode /Jinder Mahal Saga:
[read more="Read Results"]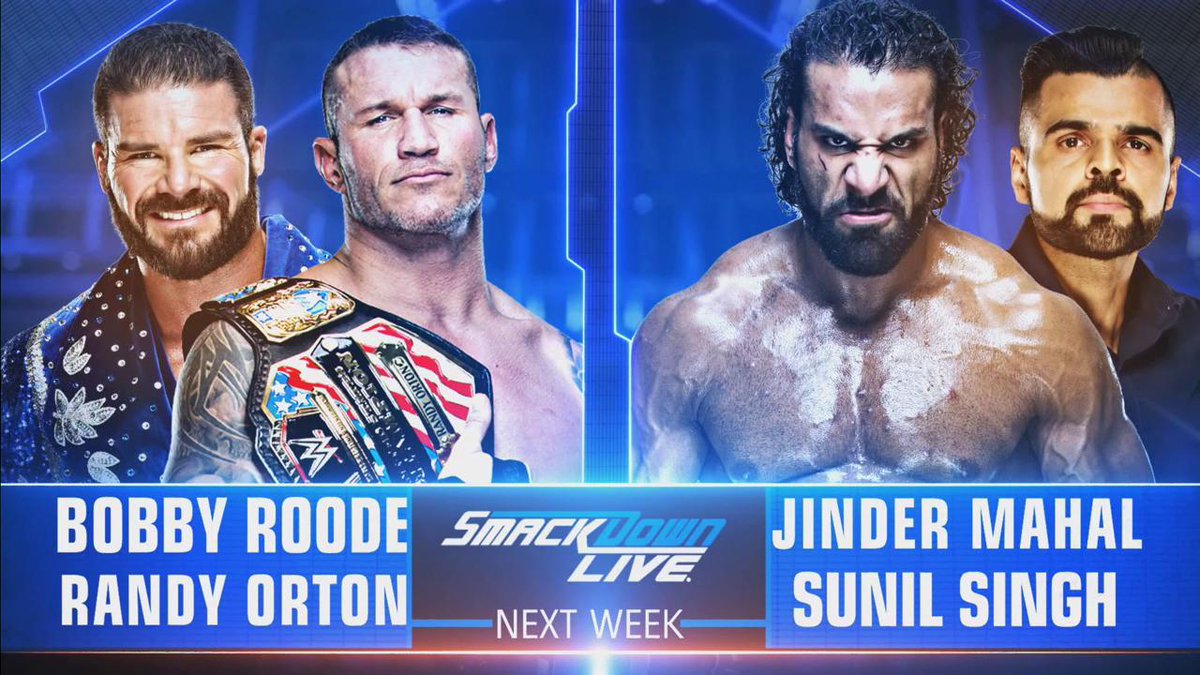 Author's note: Over the past 4 weeks we have seen it get very intense between these three men. Some people would argue that Jinder Mahal deserved to be in the United States Championship match at Fastlane, but it's over now and he got a chance at WrestleMania when he was added to the United States Championship match.
Jinder Mahal came out with his henchman, Sunil Singh who tells the WWE Universe to give it up for the next United States Champion, Jinder Mahal.
Jinder says those booing him are hypocrites and a man of his wealth could be anywhere at that time, he doesn't deserve to be there. Jinder says he deserves to be their hero. Roode then comes out to interrupt him. Bobby says Jinder is the only hypocrite. Roode tells Mahal that he doesn't deserve any respect.
The only thing he deserves is to be beaten at WrestleMania. Randy Orton then comes out. As Orton comes out Roode tries to introduce him but Randy says Roode should "shut the hell up". He continues to say Jinder sucks without his little stooge. Mahal threw his henchman to the wolves and ran out. Sunil received a vicious beat down from both Roode and Orton.
Author's note: This match will be good and I think Randy will walk in and out as the Champion. Randy could be one of the greatest United States Champions, but Jinder would still want the title even after WrestleMania. Jinder won't just back down without a fight.
[/read]
6. Naomi and Becky Lynch def. The Riott Squad:
[read more="Read Results"]
Naomi starts off with Liv Morgan. Becky Lynch then gets tagged in. Liv tags in Sarah as they take her down in the corner. A vicious knee connects from Logan. Naomi gets taken down By Logan. Before we know it Becky gets Logan into the Dis-Arm-Her and picks up a victory.
Authors note: This wasn't an impressive match because it was also short. There is no doubt that all 4 of these women will be in the WrestleMania Women's Battle Royal.
Middle Rating — 1.5/5
[/read]
Sponsored:


End:
7. Kevin Owens and Sami Zayn BRUTALLY Attack Daniel Bryan:
[read more="Read Results"]
Daniel Bryan makes his way out again and tells Sami Zayn and Kevin Owens to come down to the ring.
They come down happy not showing any remorse for what they did to Shane McMahon last week. Kevin and Sami hug Daniel.
Kevin says that they weren't going to come because Shane wasn't going to be here. Kevin says they would have been here earlier if it wasn't for Walker Texas Ranger. Sami Zayn says Daniel has supported them since day
Sami says Daniel has always been fair. Sami says that  Sami Zayn, Kevin Owens, and Daniel Bryan sound like a dream team.
Daniel says he appreciates that but this is not why he called them out. He called them out over the vicious attack on Shane. Daniel asks them if he thought that was funny.
Sami Zayn says you can't tell them that he didn't deserve it. Daniel tells them it is a big deal. Daniel admits that when Shane says he favors them it was true. Bryan tells them they didn't get carried away but they assaulted their boss.
Daniel tells them 10 years ago this opportunity would have been very good and it would have meant so much to them. He tells them Shane was right and he really doesn't want to do this.
But he has been fired twice and he has become a better man. He tells Sami and Kevin that they're fired. He tells them that they're just gone for now, not forever.
They can't believe it. Daniel offers out his hand and Sami firmly shakes it as well as Kevin. As they leave the ring Owens attacks Bryan. Kevin screams that Daniel did this.
Daniel fights back and he is on a roll. The WWE Universe is on fire. He does the 'yes kicks' before Sami saves his pal. Owens superkicks Daniel and Sami Helluva kicks him.
End Rating — 2.5/5
[/read]
Author's Conclusion
This is good planning as WWE can change the match between Kevin Owens and Sami Zayn into a tag match with Daniel teaming up with Shane to take on Kevin and Sami. They could be recalled from their contract termination, but their match could have a stipulation in which if they lose they will be fired for good.
OVERALL Ratings — 2/5
---
THE AUTHOR